Hi everyone, this is Lindsay from
Lindsay's Kodaly-inspired classroom
. My students absolutely LOVE being read to and I love to incorporate children's literature into my music classes whenever possible. Most of the times the books I use are ones that I can sing to the kids. It gives students the opportunity to just sit and listen to a musical performance. John Feierabend calls these "song tales".
He believes that just as kids love to be read to, they love to be sung to and really enjoy when the songs tell a story. He encourages you to use song tales with out books so that the children can create their own images in their mind to go with the story, but he does also have several beautifully illustrated song tale books.
These are some of my favorite illustrated song tales from his collection:
The Crabfish- I love to use this when I am preparing High and Low and Timbre. I use a low voice for the man, a different low voice for the fisherman and a high voice for the wife. The kids really enjoy this book. This is such a fun one to sing expressively!
My Aunt Came Back- I love moving with my kids to this song. It is a great cumulative song and it's so funny to see the kids try to add all the actions. It takes a little practice, but eventually they get really good at it and they love singing "A NUT LIKE YOU" at the end and pointing to me! Once they know it pretty well, I pull out the book, and we enjoy the illustrations. They find it amusing that the "aunt" is an "ant".
A Book to Practice Steady Beat
I Ain't Gonna Paint No More- The kids love this silly story. It is not one I sing, but it is great for practicing steady beat and chanting through the book. Another day after we have finished reading the book, I pass out paint brushes and heart beat charts and we "paint" each heart by tapping it while I read the story again.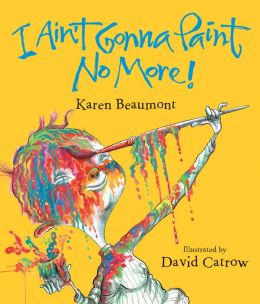 You can find cheap paint brushes like these just about anywhere! I think I got a package of 30 or so from Target for $1. This is package of 150 from Oriental Trading. Split the cost with some teachers in your district or with the art teacher!
Once every student has their paint brush, they can tap along on a beat chart like this:
Low Sol
Depending on which version of the song you use, Froggie Went a Courtin' is a fun book to add to your low sol concept plan. It's also a fun one to bring out around Valentine's for any grade.
How gorgeous are these illustrations? Your kids will love them!
If you sing this version, you can isolate the "Uh Hmmm" part with the sol, do
How do you use children's literature in your Kodaly Classroom?